Wood floor renovations at Lexdon primary school Colchester
Recently we carried this floor sanding Colchester project at lexdon primary school in Colchester.
This floor was worn through to bare wood and looking tired and dirty. So we sanded the flooring with our dustless lagler Hummel machines ( keeping the school clean and dust free ) back to bare wood and up to a smooth finish. Below is an image of the school floor just as we started the first pass with our floor sanders. Normally on a floor like this we start off with the hummel belt sander on a 36 or 50 grit to take the floor back to bare wood, removing all the old finishes off. Then we finish off on a 100 or 120 grit abrasive belt sandpaper.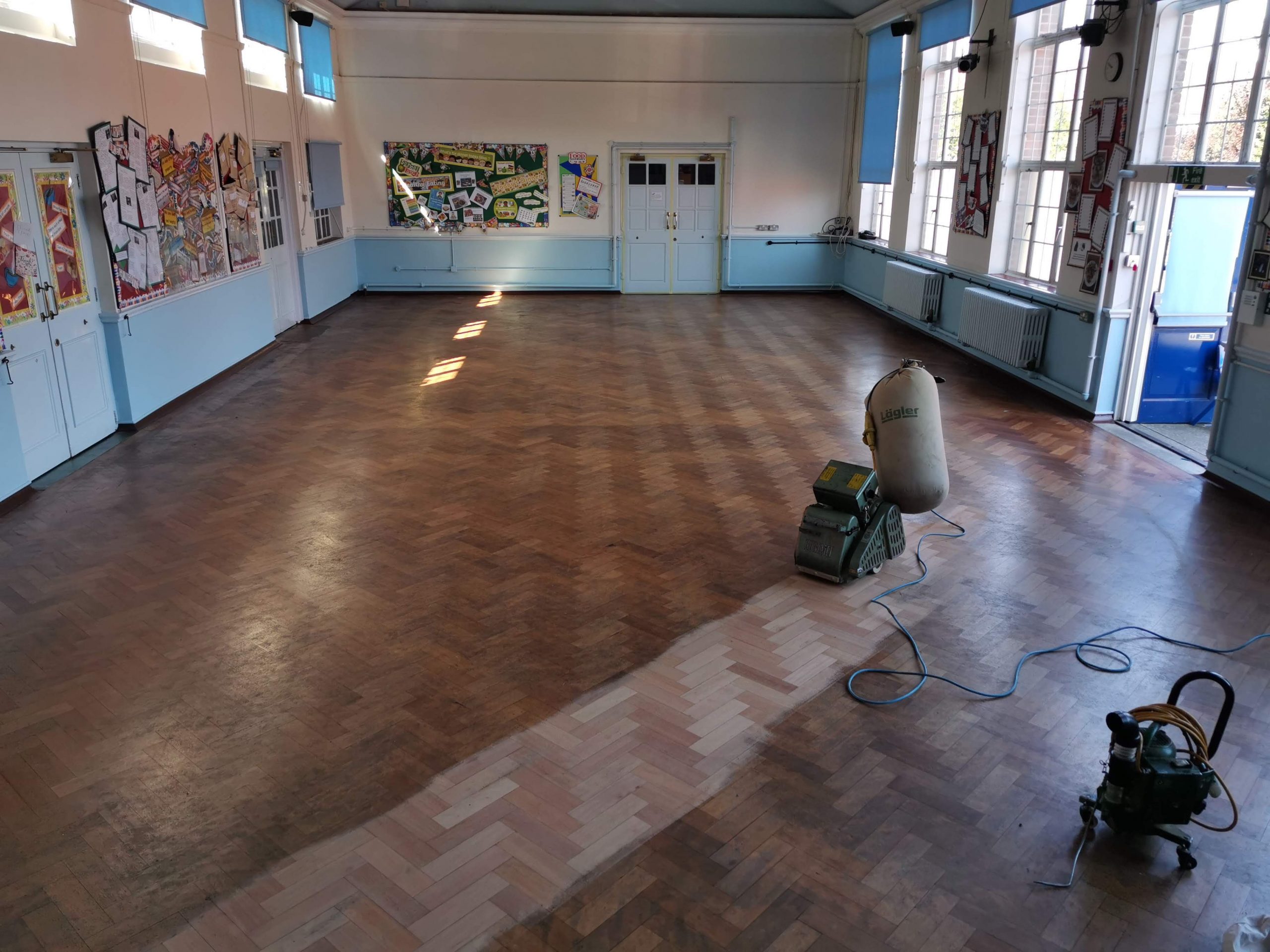 floor sanding Colchester
Commercial grade polyurthane floor lacquer finishes
Now the floor is sanded back to bare wood, we then finish off the sanding with our lagler trio machines. These machines have three discs on which spin and turn in different directions. This achieves and excellent smooth finish.
This floor had a history of some unknown products applied on it in the past, which would of reacted with our polyurethane floor lacquer. We sealed the floor with a Shellac primer to seal the floor off from any contaminants. Then we applied three coats of a two part commercial grade polyurethane lacquer, in an semi gloss finish.
The finished floor sanding restoration project.
Please see the photo below of the finished floor up close. Were really pleased how the floor turned out. The shellac primer applied first really brought out and retained the natural colour of the wood. Then the three coats of water based commercial grade polyurethane lacquer applied gave a really nice depth of colour with a long lasting slip resistance protection.
Please don't hesitate to call with any questions you have o if you would like a free no obligation quotation.
Heres the link to our contact page