Oak flooring Suffolk
We've been pretty much doing Oak, Oak and more Oak flooring Suffolk over the past couple of weeks. Like this beautiful barn conversion in mid Suffolk. Picture below is the before shot.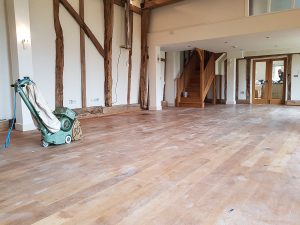 Unfortunately this floor has seen a lot of wear. There was a lot of urine stains with black stains scattered over the floor. Along with scratches all over. So we sanded the oak flooring back to bare wood, removing all of the urine stains and scratches. Then sanded up to a smooth finish using all Lager dustless floor sanding machines.
Whats the best finish to go for on this Oak flooring Suffolk.
Whats the best finish on Oak ? In cases of where your floor might receive a lot of foot traffic like in an restaurant, village hall, School etc the best bet will be an commercial grade polyurethane floor lacquer. In an domestic application i find the hard wax oil finish the best choice. The natural colour the hard wax oil gives is fantastic ! and highlights the grain of the wood. Also you have the benefit of being able to spot repair and touch up areas if you do scratch or mark the floor.
If the natural colour of Oak is not your cup of tea, were able to pretty much stain the floor any colour from the white or grey look to browns to black. Please get in touch if you like to see any samples.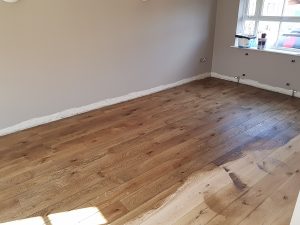 On the barn conversion now sanded back to bare wood, we went for two coats of hard wax oil in a matt finish. First photo is the hard wax oil being applied and the second is the finished floor.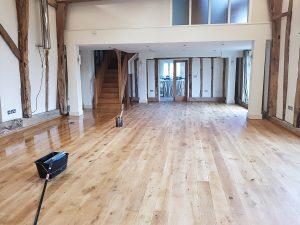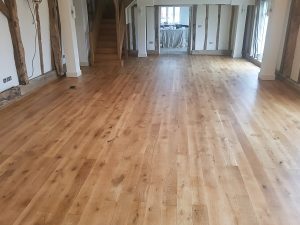 Supply and fit Oak flooring Suffolk.
Were also able to supply Oak flooring Suffolk and beyond. From the the European and American Oak flooring made to order. Beveled edge or non bevel. Any thickness ( usually 20mm). Any width also from narrow to wide. Or you can have an bespoke random width floor made to order. For example you could have an 30m2 floor made up of 220mm 100mm and 150mm wide boards creating an unique style and look to your floor. Were also able to supply Maple and Douglas fir flooring.
Engineered flooring were also able to supply. From 15mm thick to 20mm from pre finished to unfinished flooring were the flooring is finished on site for a more unique bespoke floor.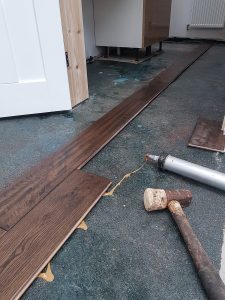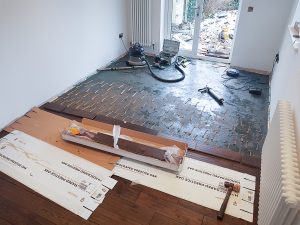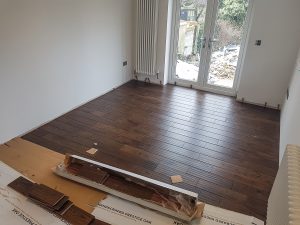 Would you like to see some samples and arrange a quotation ?
If you like an quotation please don't hesitate to give me a call. Were able to arrange a home visit or direct you to Thorogood timber who we work with, particularly with the bespoke solid flooring.